The Significance of Color in Dussehra Dressing: A Guide to Choosing the Perfect Outfit.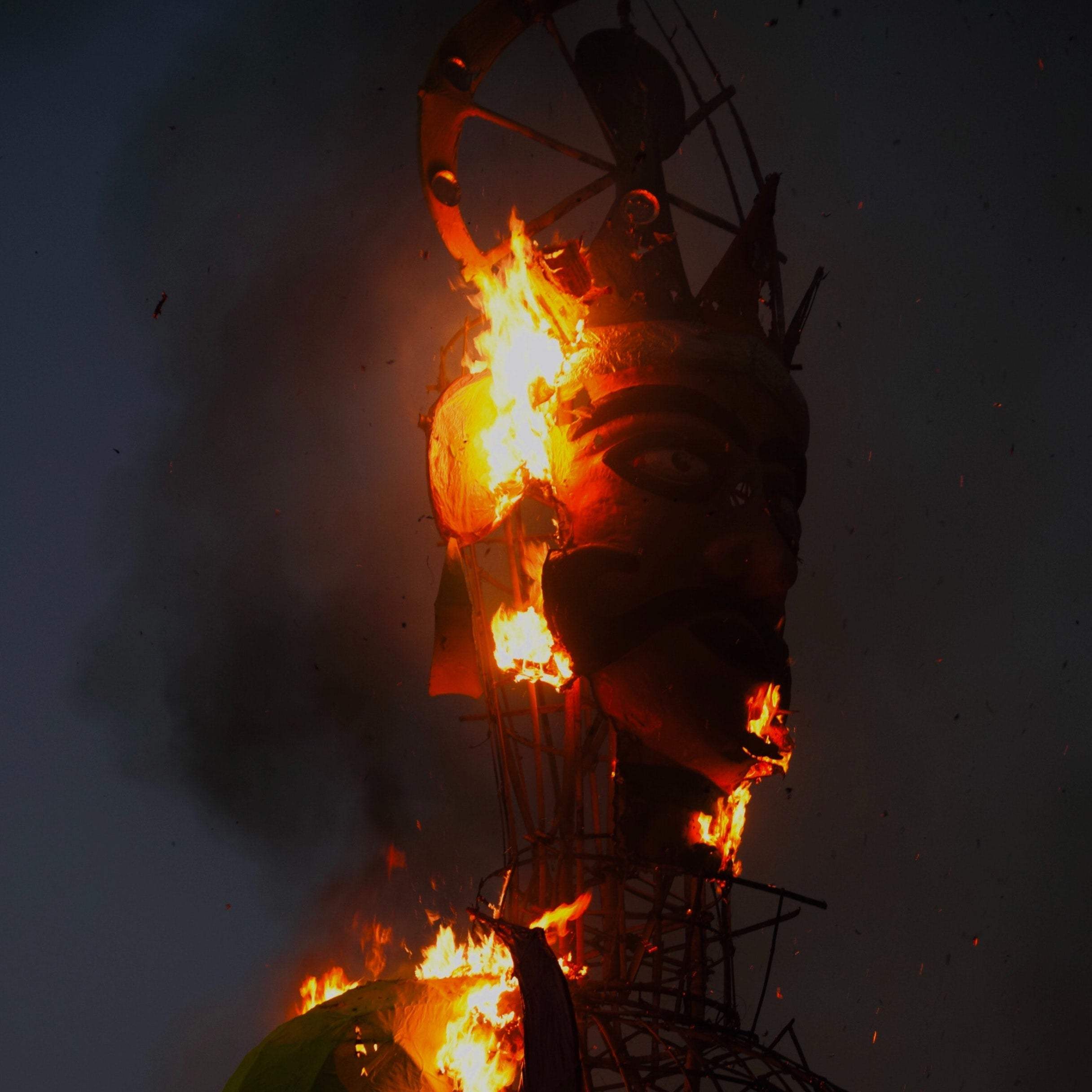 Dussehra is one of the most awaited festivals in India. After the nine fantastic days of Navratri, we get to celebrate Dussehra.  It has a long rich history which makes us believe that no matter how powerful, or dominant evil is, goodness, purity, and truth are always going to win. We all have different ways to celebrate Dusshera, some throw a huge party, some just believe in family and friends pooja, but the one that is practised by most of the people is to have a bonfire, where we let go of and burn all our evilness. The evil in ourselves and in our society is burnt on the bonfire and everybody takes part in it, as a promise that we are letting go of the evilness or all the bad karma and working towards a better self.

If a festival has this deep meaning where goodness will never go off no matter how difficult the path is; and provides us with so many lessons and hope, and promises to new beginnings, then why shouldn't we put the same effort into our outfits for the day?

The colours we wear during such auspicious festivals say a lot about us as a person and our mindset, black is often said to be the colour of death, and negativity and white to be the sane one. But life in today's world isn't black or white, it's grey, we all have our grey colour inside ourselves, the only thing that would make us better is to accept our flaws, and wrongdoings, learn from them and never repeat them. And while we do that, we must celebrate the festival of the win of good over evil in colours.

There isn't a single way to celebrate Dussehra, and there are lots of colourful options that you can try to show how good you are. So let us give what this festival deserves from us, a dedicated ethnic garb that matches the enthusiasm of celebration.
Pastels, the trend, the saviour:
No matter what you have thought of wearing this Dussehra, if you haven't found something as you have dreamt it to be, it's time to go for pastels. It's not a secret that pastels are everything in the recent season, they are the vibe, and the minimalistic details not only make them simple and sober but also reflect a soft side of yours. Festivals are the best ones to showcase it as pastels are the epitome of sophistication. You can choose anything from fresh light green shades to soft pink, and lilac tones and you would be good to go.
You can try pastels in everything, be it a saree, or a sharara set.
Give it a colourful twist:
All of us try to be unique with our outfits one way or another, be it choosing detangled jewellery or having a carefree hairstyle. One such way to do so would be to go for an asymmetrical kurta with dhoti or trousers with mismatched colours. Though you can also go for the same colour, giving yourself such a pop of different colours would only highlight you and your outfit as a whole. The asymmetrical kurta would elevate the outfit showing the effort and the straight-fit trousers would balance it.
The outfit is not only trendy and unique but it will also be very comfortable for you to enjoy fullest.


Florals over white:
Festive colours are often associated with dark heavy colours, and florals have been the most underrated pattern for festivals. If you are looking for a soft simple ethnic vibe which would also in one way or another appreciate our Indian handcraft then a hand-block printed kurta set should definitely be one of your top choices. Any floral print over white elevates the basic white saree, dupatta or kurta.

You can go for a different type of material like kalamkari, which is also a synonym for Indian festival outfits. If you are going this simple for your overall Dussehra outfit then you must put on some statement jewellery, matching it with the pigment of colours of your outfit. Kapaas Katha's Katha of Jewel's handcrafted 92.5 silver necklace collection can be your best companion for the day, and you must check it out.
The epic sarees:
Not everyone likes to be a simple one, some like drama and dramatic outfits of course, if you are someone who always likes to be a little extra and grab all the limelight with your elegance, then the six yards of elegance is your best choice this Dussehra. Sarees are evergreen and won't ever go out of trend, the traditional ones in different colours with handmade crafting all over them serve perfectly for all Indian occasions.
Kapaas Katha's diverse collection of Sarees is a must buy, because of their versatility in colours, being available in various auspicious colours, which are considered as the colours of God and pooja like rani, yellow, green makes them the perfect choice for Dussehra.

Glam up to glow this Dussehra:
Colours have always played a crucial role in defining our personality, we reflect what we are by our choice of colour, and we choose which colour we want to wear depending upon which mood or side of ours we want to depict. Thinking about the cheerful colours seems so natural to all of us when the festive season is near. Be it the kalamkari, the bandhani fabric or the simple handcrafted prints in a piece of cotton fabric, all of these automatically effortlessly make a space in our wardrobe and we welcome them and embrace them with all of our love because no matter how plain, dull, boring clothes and colours we have worn throughout the year we all want something fun, exciting during the festive season.

Hence, go colourful, don't restrict yourself with your usual ones, and let the positivity take over you, all over again this Dussehra.

Written by -
Kiran Joshi