Wishlist your favourite handloom sarees in different forms today!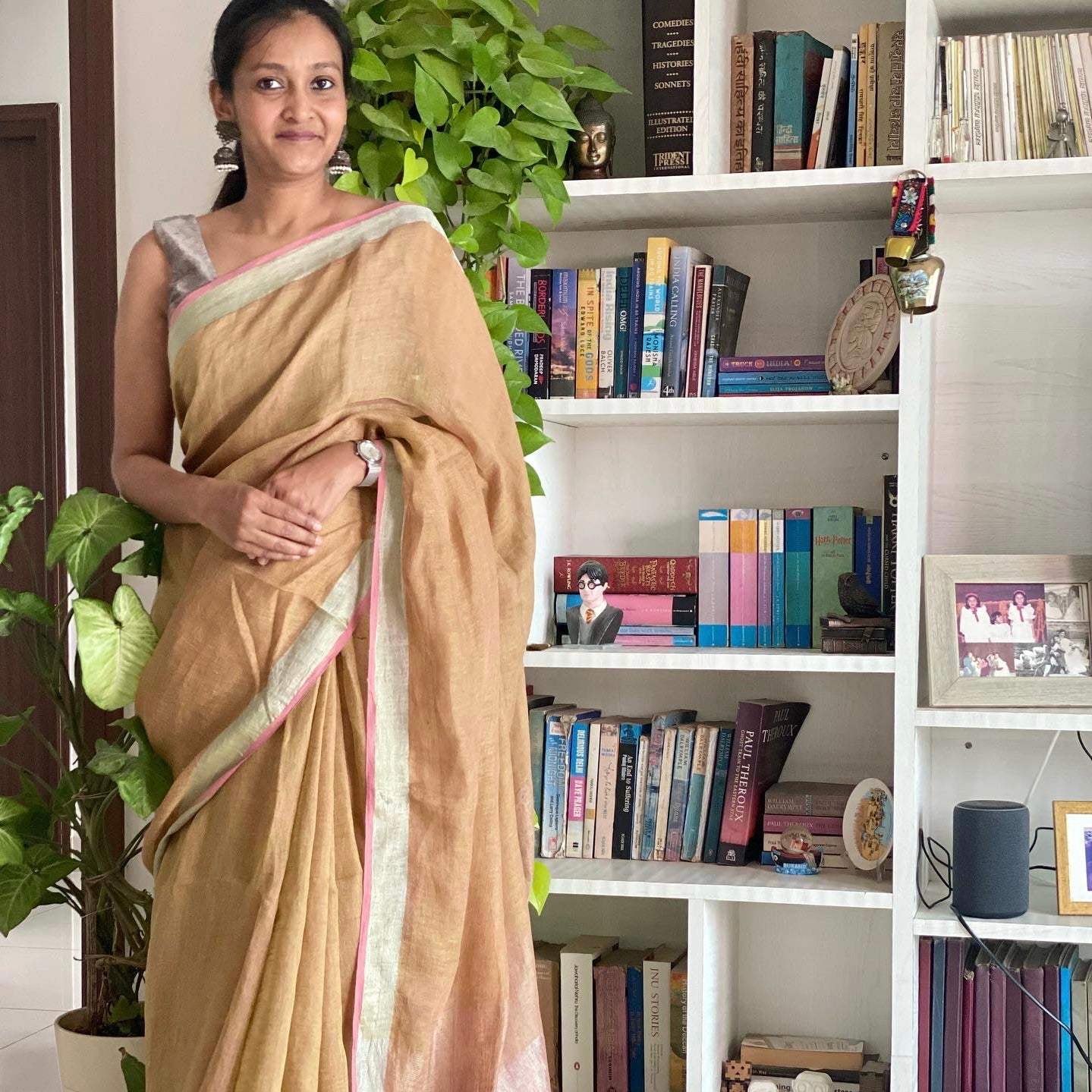 Having a peaceful mind, in today's hectic world is not only a desire but also a necessity for most of us. The more important it is, the harder is to achieve it. Moreover, it's on you, to thrive on the things or activities that let you be in peace. One of the very prominent ways to cherish that happiness for yourself and indulge that within you and your chaotic lifestyle is simply by dressing your best self.

The past two years, made us most comfortable within ourselves. Working from home with loose pants and shirts was the new normal. But even in those days, one in a blue moon, when you couldn't deal with all the work and home pressure, dressing slightly professionally and sitting at your desk helped you focus.

If dressing appropriately can have such a big impact on you psychologically, then yes, you must invest in it, to outgrow yourself. For females, the industry is quite rules-based, wear this, wear that!

But, we bet you haven't come through a space where you are not allowed to wear and flaunt your beautiful sarees! Shall we style them for your ultimate bold look at the office?

Modern women are fearless, she is ready to take up chances that make them feel good for themselves. She feels confident with putting effort into the dressing. She is one of a kind, and such one multitalented woman deserves one hell of an outfit. Kapaas Katha has some easy-to-carry, yet bold enough to make people turn their heads sarees for all of them.

It's not only for the women, who go to an office but every other woman, who works throughout the week, juggling between her children and husband, then having one day for herself. It's basically for every woman out there. Still, not convinced to choose "THE SAREE" as your next outfit?

Well, you are surely going to change your mind once you finish having a read.


Appreciating Traditional clothing:
There's nothing more comforting as well as empowering than traditional clothing. It makes you feel lifted, it makes you feel superior and it also helps in improving your work-life balance magnificently. A peaceful mind lies in a peaceful body. You can make it by draping cotton sarees with heels or flats. It's not only comfortable but also easily wearable for your daily outfits.

One thing that makes all of these aspects, and traditional clothing this impactful is how it is passed and cherished through generations, only to make it more reliable by each one of them.
Must wear to get away with Monday blues:
Monday blues are real and can get above your head, especially when the holiday season is around the corner. Who would like to go back to plain clothes and boring work when you were wearing all the glamour and having fun?

Why don't we bring glamour and fun to the office then?

Wear kapaas Katha's cotton silk hand block printed to make it the highlight of your day, and you will always look forward to Mondays to put on that favourite saree of yours.


Cotton sarees- easy to carry throughout:
Working in an office with a saree can be quite hectic for someone who is not habitual of wearing and   But with light-weighted handloom Maheshwari sarees or even with cotton mulmul sarees , you will not feel heavy and can easily manage to do everything.

With the thin and breathable material of cotton, it becomes hassle-free to not have second thoughts about your outfit, and enjoy every bit of your day, while concentrating on your work.

Multiple ways to style a saree, and still won't get enough of it:
Sarees are often considered as long, plain boring clothing. But in reality, it is completely the opposite. It depends on what you want to have. Kapaas Katha has many options, like rich silk sarees, and Bandhani sarees with vibrant motifs all over them. Name it and you have it. Actually, it depends a lot on your choices. How you want and like to style a particular piece of clothing. In sarees, you have multiple options like pairing them up with trousers. This way it is not only stylish but also comfortable to carry on with your chores of life.

You can also style your saree with a shirt, to have a semi-formal yet bold look. Clubbing in sarees, not only sounds cool but also looks coolest. Try wearing a saree over off shoulder or spaghetti top and rock the dance floor. And how can we not mention the classic formal pairing of sarees with jackets, blazers and coats? Having a solid-coloured blazer with your saree can elevate your look by 2x.
Have it in different forms from across the nation:
You must be creative and also have tons of styling ideas by now. But you are still confused about how to actually grab all these different types of sarees. It is very natural to be overwhelmed with tons of styling ideas, but also irritating to not have a place to find it all.
Well, we have made it very easy for you.

As kapaas Katha has handpicked and designed various sarees and dupattas from different states across the nation. India is extremely rich in diversity, and   has tried to make this diversity accessible for all.
Kapaaskatha– your one go-to step to uplift your wardrobe!
If you are done with those formal trousers and shirts or top looks, it's time to spice up your clothing, especially your office-going wardrobe. Let Kapaas Katha help you in doing so.

Kapaas Katha is customer oriented and is very prominent when it comes to fulfilling their needs. We have made traditional clothing easily accessible for different purposes. Be it bridal sarees or office wear. Kapaas Katha has it all, in every form.
Written by-
Kiran Joshi