From beyond the ordinary: Katha of Jewels and its impact on the jewellery world: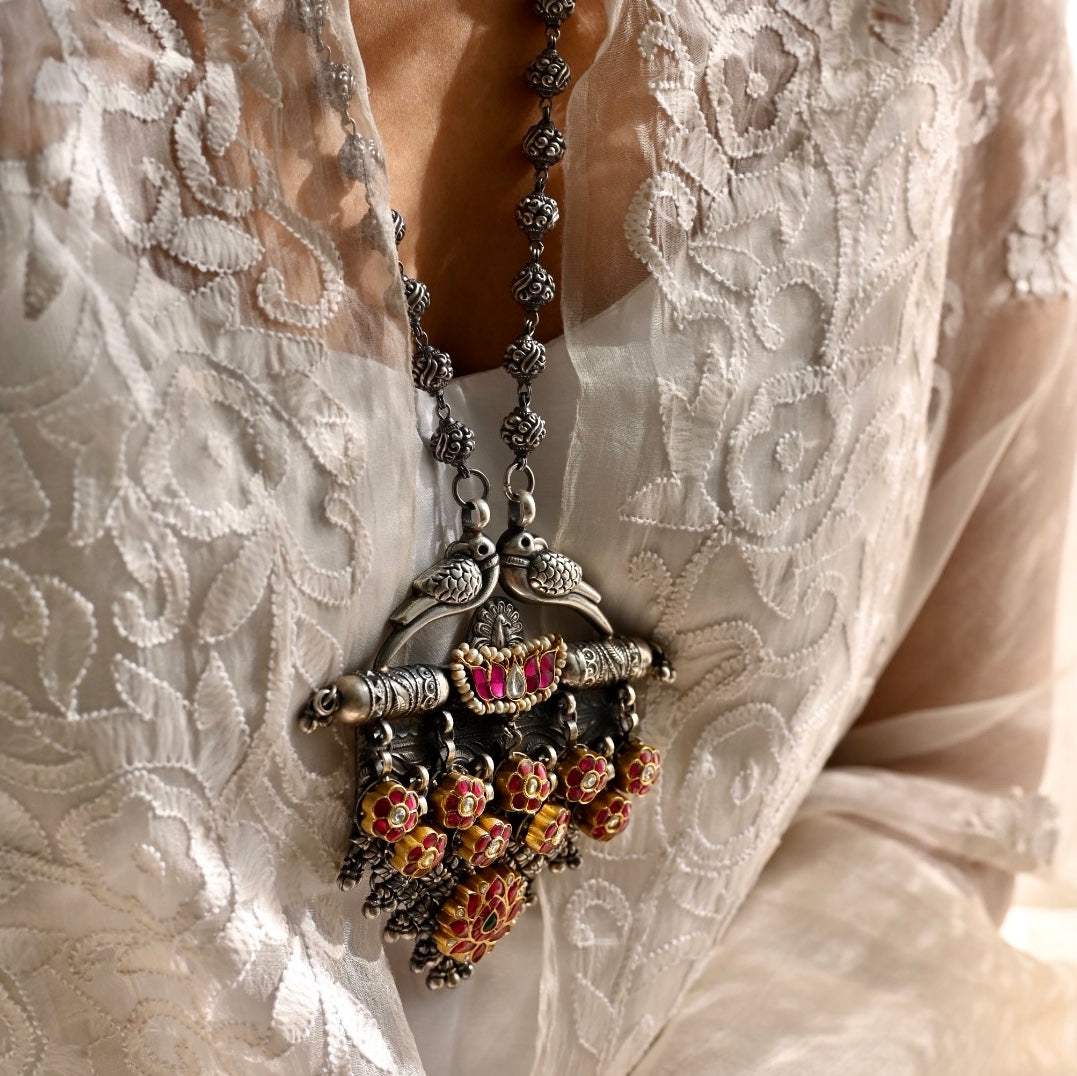 Jewellery, be it earrings, necklaces, a simple chain with pendant, bangles, or kadha has been the language of putting effort, into showing and feeling the ultimate self-love. It has also been a love language when it comes to giving someone something.
Wearing jewellery and showing love towards the great authenticity it comes up with, is truly genderless. It is usually associated with women, but even if we go back to history, all the great raja maharajas have been wearing those heavy kadhas and chokers. And thus jewellery has been the symbol of multiple emotions. Be it simple tucks, or earrings for our daily use, to those heavy rich jewellery we give to someone special or wear on special occasions. Jewellery can be anything and everything from extraordinary to the simplest one.
Kapaas Katha, having the true eye of the jewel when it comes to anything as precious as jewellery has launched a beyond-the-ordinary jewellery collection, "Katha of jewels" accompanying our beautiful handmade sarees. It's a part of Kapaas Katha more like the sub-brand where all the beautiful accessories are accessible to you. We realise accessories are one of the main elements to uplift any outfit. Anything you pair carrying along with confidence can elevate your whole outfit. Confidence is truly everything.
Well, jewels are the one that either makes or breaks the whole essence of jewellery completely. The total elegance of the whole jewellery depends upon the fine making of that particular jewel, and how it is crafted in the jewellery as well.
Katha of jewels has three premium categories under which we have launched products: Neckpieces, earrings, and hand accessories. So let's unwind them and present to you the most elegant jewellery out there.
Neckpieces: Neckpieces are one of the accessories that can uplift your whole look in just a few seconds. Be it a closed-neck top or an off-shoulder one. You can pair it with any of them, and you will be slaying everywhere.

Nowadays, most people go for minimalist things, just a small pendant in the chain, but some people still crave statement pieces because they just don't complete the outfit but are also an instant confidence booster, to our such pretty lovely audience we have launched handcrafted silver necklaces with designs inspired by nature, lord Ganesha, temple. These bold statement necklaces are all good to set you and your outfit on top, along with that they are indeed the symbol of how powerful god has always been, and how we can somehow enhance those qualities within us. You definitely should begin your new year with such enthusiasm.
Earrings: Earrings are one of our favourite accessories. Because for most of us, it's the only jewellery we can carry every day, without looking like we have put too much effort into our outfits. If not every day, then be it wedding season or any special occasion, if someone is not very habitual of any types of accessories, One might not go for heavy jewellery sets or mang tika but one can never say no to a cute pair of earrings.

For instance, We all have our stories to go back to memory lane, and earrings are definitely a part of some of them at least. It could be The first time you wore those huge earrings of your mom's or elder sister or maybe it would be the first piece of jewellery you ever wore in life.
Earrings have always been a part of your life, even tiny ones. And today growing up, you realise how crucial they have been, as you started noticing and caring about the details. You need earrings to pair up with formals, with ethnics, basically for everything, and you can have the most unique, bold one at Katha  of Jewels. The earrings collection launched by Katha  of Jewels is truly one of a kind, so you definitely must slay yourself with those jhumkas.
Hand accessories: Handcuffs, B You know the basics we all have that if paired up with different things would make a great fit. These are those essentials when it comes to accessories. Though most people won't find it easy to manage bangles every day, all along, because truly it's a task, you still want some nice accessories that can go with everything and anything you wear.





To fulfil this need of yours, we have launched minimal yet one-of-a-kind hand accessories for you. With our solid statement piece Handcuffs, the bracelet; you can add charm to any of your plain outfits.  The tiger and lion face of Kada is not just a heavily detailed design but also a symbol of power within. To reciprocate the sheer fearlessness inside any woman. Our ultimate silver charm bracelets are designed with charms to protect you and your happiness throughout. With such thoughtfully designed hand accessories, our main goal is to add a little more beauty to those beautiful hands.

Jewellery has always been a crucial part of our culture. Everybody likes jewellery in some way or another. Some like trying it out on themselves, and some like to adore it on others, on their loved ones. Some just like to collect it, because of how precious pieces of jewellery are. Nonetheless, jewellery is everywhere. They are perfect for feeling self-love or showing love to others, being the perfect gift option as well. So you can be either one, the one who would give it to you yourself or the one who would make someone's day by gifting it to them.

Katha of Jewels - Kapaas Katha's sheer loved accessories:
You've been extremely kind and lovable towards every cloth collection of Kapaas Katha and We expect the sheer love of our jewellery as well, if not more. We are waiting for you all to welcome and appreciate our effort with open hands and wide hearts.
Written by-
Kiran Joshi