Luxuriate in comfort: The benefits of soft quilts: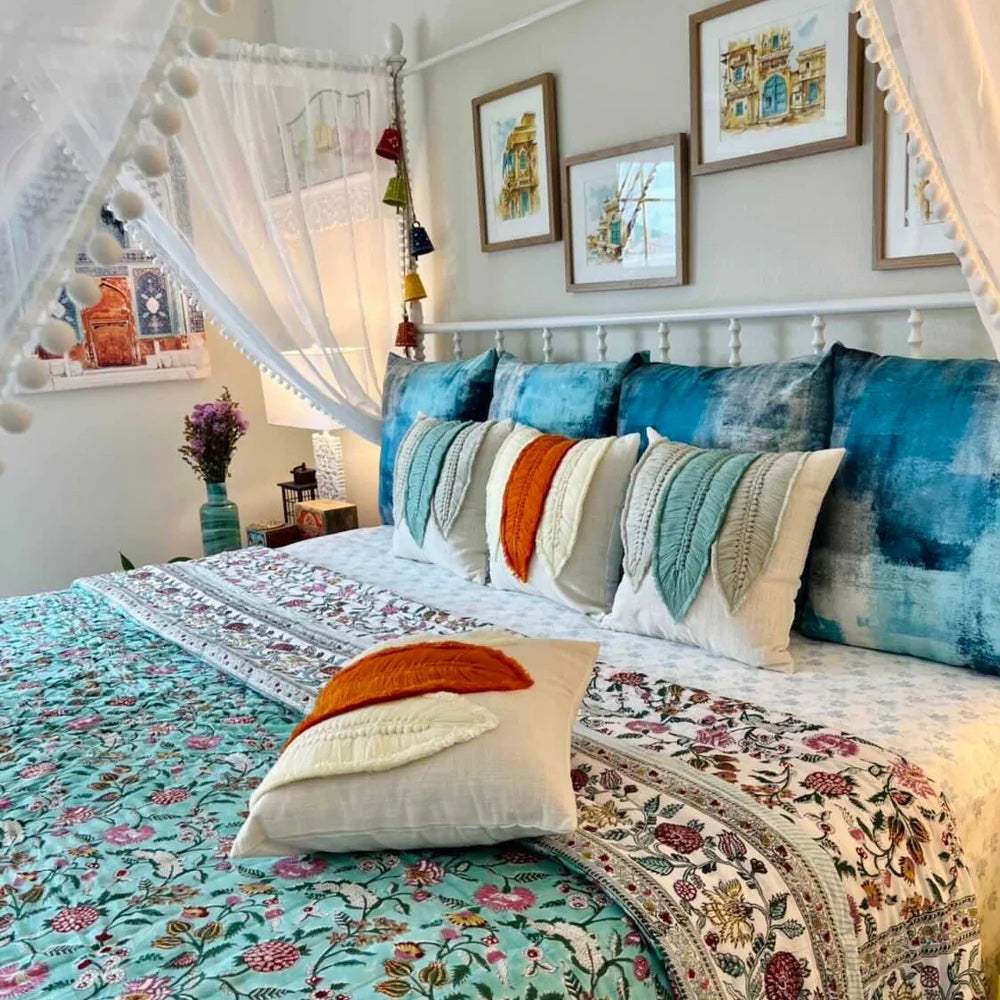 You are lucky if you are ready for the upcoming chilly winter and don't feel it might snow the next moment. Well, the winters are officially here along with the new year, and this time with some real single-digit temperatures. Ideally, all your sweaters, jackets, mufflers, blankets, quilts, basically the thickest of winter wear should be out by now, or maybe it has actually been.
Winter not only calls for being lazy, roaming around your children for the shower or with yourself and dry cracked skin as well, but it also calls for a lot of food cravings, moisturiser, natural comfort wear, and a night of peaceful sleep after spending the whole day in 10 layers of clothing. Well, you have to gear up to reschedule and change most of it, but we are here at the rescue to make your sleep a Lil better with Kapaas Katha's soft and comfortable quilts. To have your sweet little or long me time, a bit more comfortable. There's nothing to state that your quilts must already be out by now, Whatsoever, the scenario may be, we are sure one quilt is never enough, or maybe even two. You always need newer and better ones.
Kapaas Katha's Home and kid collection have the softest quilts which will not only keep you warm but will also keep your skin happy and healthy. Most of the quilts that are available in the market are usually made through a rough process, and thus they are manufactured in such a way that is very rough to your skin overall. But we at Kapaas Katha, with all our dedicated manufacturers, have made sure to provide you with the softest quilts out there.
The quilts collection of Kapaas Katha is the most versatile one, as it has so many characteristics. Be it the joyful design that would be anybody's favourite at first look or their ultimate softness. One of the main qualities other than having the most vibrant design and cosiness of the material is that the quilts are reversible. Yes, you read that right!
Reversible quits, so now you get two comforters at the price of one. The whole package; can make you feel loved, and cosy and is affordable at the same time, because you always have the option to reverse and play along with reversible designs.
By now, you must have realised how much your comfort and peace matter to us, and so we have put every effort, and detail into making quilts that make both your soul and skin happy. So, let's unveil the softest quilts to make your sleep a lot better on these chilly nights: 
Reversible single-size quilt: Most of the single-sized quilts available in the market, are not always the ideal type, and we are here to fill the gap! So you do need a nice cosy yet not the usual quilt. But most of the ones in the market are of a certain size that you obviously don't want. Well, you can relax your shoulders a bit, because you are just in the perfect place to find the appropriately-sized quilt that is reversible and can be used either way. Kapaas Katha's Home collection has some of the best comforters as reversible single-sized for everyone who is away from home and trying to build one. You must make them a part of your little corner or home for that matter of fact. 

Reversible double-size quilt: Basically everything and anything doesn't belong to one single person in a family. Everything is shared from clothes to bedsheets and of course quilts. One quilt is never enough in a family, especially with growing kids, because then how there would be reasons for the ultimate face-off?

Therefore, you always need more comforters along with other home essentials. The reversible double-sized quilt will not be the perfect sized one you were always craving but also be the one that would go with all your bold, neutral walls. The detailed multicolours used in the design make it "one-for-all", or something that goes with all, and almost everything. We have crafted all our quilts in a way that matches with different aesthetics of various homes in one way or other which justifies such heavily curated designs.
Reversible king-size quilt: It's okay and very natural of us to feel like the main character, and to make the feeling a little more realistic, we have a reversible king-size quilt because you like it all grand and huge. The reversible king-size quilt can be used in so many ways, be it using it all for and by one, or just laying it around in a small bed, where everyone, multiple people can fit just the way they want. The king-sized sizing of a reversible quilt opens up so many options for you to use it the way you want to. So you should not be waiting for this much now that you have got the exact king-sized quilt which can fulfil your desire to be the main character.

Bring the quilt of comfort and joy to your home today;
You know when you see something that resonates with your mind, your aesthetic, and overall with however you want to portray your home as. The designs of our quilts are something that everybody can resonate with, and can make them a part of their home, their life. The white-coloured base of the quilts helps the design to be as dominating as possible on most of our quilts. You have the heavy design for the traditional authentic vibes, the minimalistic designed quilts for the modern day or for your grown-up's bed, and then you have the animal printed ones for the lovely smiles of your beloved children.
It thus makes Kapaas Katha have everything you are always looking for in a home collection, which makes us deserve a little place in your home as well.