How to choose the best bandhani sarees and dupatta for your wedding day?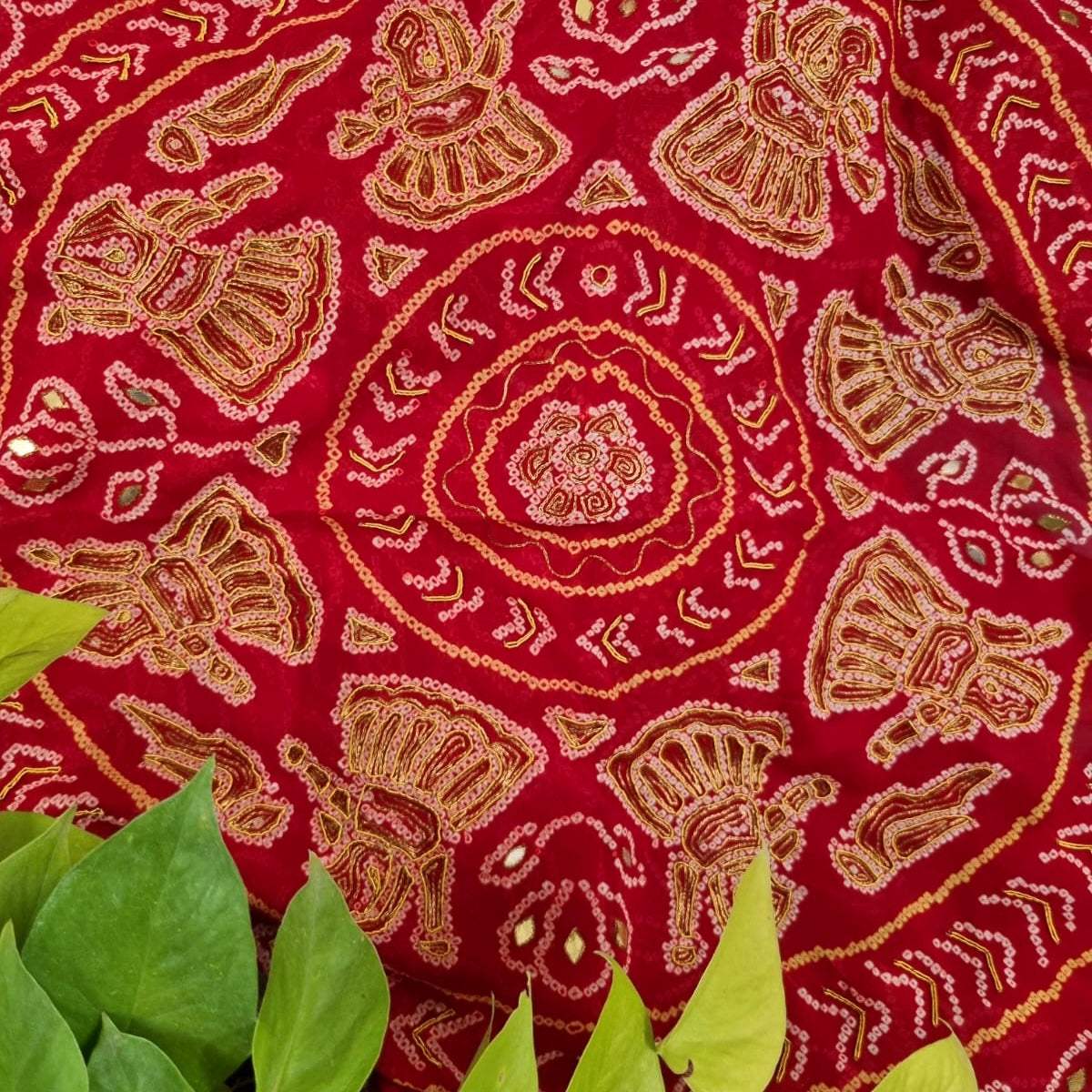 Getting married is one of the most hyped events of life. From distant relatives to long-lost friends, the wedding bells ring and the party mode automatically turns on. Suddenly nobody can keep their calm. It is very natural to feel this and react this way! Why not?
As Indian tradition is built in a way that exaggerates the idea of marriage, so is the Indian mindset. Everybody grows up with a different perception of marriage, because of the enriched diversity of the very nation. For some, marrying in a temple is the most auspicious way, for few, it is just one function at church and you are done, and then are some people who cannot get it done in one day, it requires them at least 4-5 days to set off the bride.
So when an event has been portrayed as one of the biggest ones of your life, being tensed about looking perfect for "the day" is expected. We are here to take that burden off your shoulders at least for the traditional clothing. For our young readers- you still have to manage to find the perfect fit for yourself, till then enjoy grooving in your cousin's wedding with beautiful bandhani sarees.
There are tons of options available when it comes to bandhani sarees and dupattas, as they are very much in trend because of how timeless they are, and how beautifully they can be used. Even celebrities and big stars have included bandhani sarees and dupattas in their wedding outfits. It does become quite overwhelming after a point. What to choose and what not to.
Therefore, below are a few qualities to look for while finding your best bandhani sarees and dupattas:
Select the fabric, which you can handle. Bandhani sarees come in various fabrics like silk and georgette. Georgette bandhani sarees are extremely comfortable to handle, because of the lightweight georgette fabric, though bandhani silk fabric can be tough to carry if you are wearing it for the first time.


Go for yellow and white dots, Bandhani sarees are made through the process of tye and dye. It is available in multiple colours. But being a bride, if you will go for white and yellow dots in a bandhani saree, it will be better for you, as white and yellow dots are considered to be auspicious


.      
Being a bride, one must want to outstand everyone, hence it becomes too difficult to put your best foot or saree forward. If you are someone, who wants to go all traditional for your big day or have at least a few elements during various functions, then you are at the right place! Here, are a few ways to include bandhani sarees, and dupattas on your wedding day effortlessly:
Find your vibe:
Picking up the best bandhani sarees or dupattas is tough, and that's why you just break down the process of doing it. Starting with, finding your vibe and types. How do you want the essence of bandhani in your wedding outfits? Pairing up a rich bandhani dupatta with a plain or less embroidered suit can really spice up the looks. You can not only think about wearing it at your wedding but also during pre-wedding shoots or post-wedding functions. This simple yet classy look will definitely give you tons of blessings as a newly wedded.





Bandhani craft- utilise their versatility:
Now, that you have thought of the ways to include it in your clothing, get creative and think beyond the traditions, though traditionally wearing any bandhani sarees or dupattas does ace the game. But choosing your comfort over any styling is also important. You can go for bandhani's co-ord sets during mehndi, or one of the options could be bandhani dupattas as shrugs for haldi, though we cannot promise if that will save you from all the haldi bombardment but let's hope it does.

Having so many options, it still feels quite intimidating to find the best bandhani saree and dupattas which will fulfil all these requirements and also are of top-notch qualities. By the end of your reading, you will definitely find the solution for that.






Go for native artisans:
The magic beholds from the magician only. The native artisans of Gujarat are the magicians of bandhani sarees and dupattas. You will not only be surprised by the utmost quality of their work but will also be astonished by the efforts they put in to make you shine brighter than ever in that bandhani saree. But does travelling to a whole different state or maybe country sounds sensible or even economical? No right?

That's why you have kapaaskatha, your one-stop to have high-quality bandhani sarees and dupattas, the sarees and dupattas that are available at kapaaskatha are of top-notch quality because all of the products are created by the native artisans only.


Initially, We researched and found out about the deprivation of a community or a place where native artisans could connect to their potential customers or appreciators, just like you, we realised many people cannot travel solely for clothing purposes. But then, just like you we also had the cravings for finding the best bandhani, kanjevaram sarees and dupattas possible. Therefore to make things a lot easier for you, we have made kapaaskatha- your ultimate traditional shopping centre.

Take it easy and enjoy every bit of it:

Finding the perfect bridal lehenga or saree can be overwhelming amidst all the other preparations included. But it is necessary to keep your calm and let things fall into place eventually. As of now, you must have already been sorted about most of your wedding outfits like how to include bandhani motifs in them and where to get the perfect bandhani saree from. Kapaaskatha, right?
It's now time, to have your pampering session for the one-of-a-kind bridal glow and get your dance performances ready to slay as a bride on every stage.
Written by-
Kiran Joshi