Modernizing traditional Indian wear! Bandhani Sarees are now trendy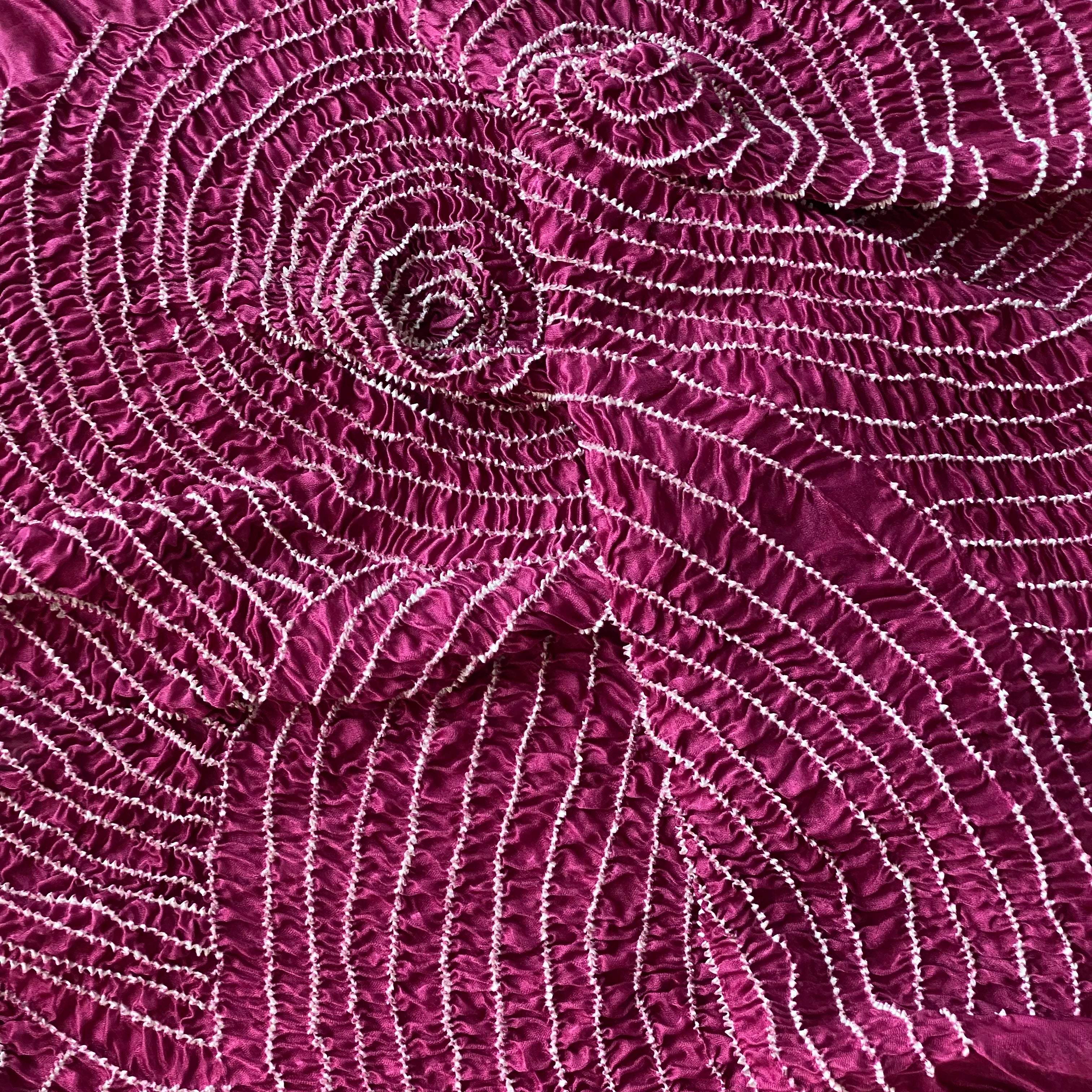 Bandhani sarees are a golden treasure when it comes to traditional clothing. It is something in the form of sarees that is passed as a blessing to the younger generation with all the authenticity it beholds. You must have observed your mother and grandmother wearing bandhani sarees with vibrant colours, and heavy zari work as their most preferred option. But now this rich heritage is used in the most modern way. Why not?
When traditional clothing meets modern styling, the results have always been astonishing. So, let's get into how bandhani sarees came into existence and how they are modernized with utmost creativity today!
The originality of Bandhani sarees:
'BANDHANI' is derived from the Sanskrit word 'BANDH', which means-tye/tie. Bandhani sarees are made through the process of tye and dye of a plain white georgette or silk cloth. The cloth is tyed in such a way that it creates white and yellow dots all over the fabric. White and yellow dots are thus created on the saree with this process, now the saree is prepared to be coloured in multiple colours like red, blue etc. It not only creates a pattern but is also pleasant to look at.

Gujarat and Rajasthan are two of the very famous states which create most of the bandhani sarees. With such a rich history and originality of bandhani sarees, they have established their name in the clothing industry and will never be out of fashion.

One of the best things about the traditional bandhani sarees is that they are versatile to style, so one can style them in their own way. Bandhani sarees are famous for their patterns of dots and can be used as anything, be it dupattas, lehengas, etc. So, let's see how modernisation has affected the traditional bandhani sarees and made them more wearable and handy for a new generation:
Bandhani sarees in trend by the best:
India is a hub of following the mainstream. Anything that is used or worn by any humongous actress or influencer automatically becomes a trend. So, when it comes to bandhani sarees being modernized in the most unique ways. Influencers are one of the main reasons for making it happen. But to find the latest bandhani saree design latest collection, kapaaskatha is your go-to stop and you can have them in almost all varieties. As Bandhani sarees are all over the trend, especially when it comes to any grand functions, Like- Marriage.

From Isha Ambani flaunting it as gracefully as anyone

 

with all the heavy zari work in it to influencers styling it in various functions like mehndi, sangeet or anywhere possible. Bandhani sarees have gained all the charm and attention of the season. We are sure you won't mind getting compliments while wearing one.


 Draping as co-ord sets:
A unique way to style the classic bandhani sarees is to design them as co-ord sets. The versatility of bandhani sarees is that they are so comfortable to wear even for long hours and that it comes with such grace–to be easily styled. So having a creative mindset and the perfectly patterned bandhani saree is all you need to make your dream outfit.

Wearing a suit or lehenga can be a task when you have never worn it before or on a regular basis. But co-ord sets are very comfy. You can dance your heart out, do a lot of things, basically anything while wearing it. But is that easy, to find the perfect bandhani silk saree through online shopping to finally cut it down as a co-ord set? To ease up things for you, so that you can focus on slaying the events, you have Kapaaskatha.Getting a traditional co-ord set is so tough, and that's why creating one from kapaaskatha's beautiful bandhani saree is your go-to option. 
Dupattas as shrugs:
Bandhani sarees are the 6 yards of pure elegance. With such long bandhani fabric, you can do a lot. You can cut out different pieces of various lengths and style them differently. Dupatta is one of them.

Though bandhani dupattas are available and you can directly purchase them. But if you own a bandhani saree, it will be more authentic.  Managing dupattas can be one hell of a task, so draping it like a shrug can be fascinating. Both from looks as well as from a managing perspective. What are you waiting for?

Style your favourite bandhani dupatta as a shrug with a crop top and pants, or even with a skirt and be ready to slay this wedding season.


Pairing with trousers:
Some people are blessed to flaunt sarees flawlessly, and even wear 6 inches of heels and dance like they are in sneakers. It is very natural to be jealous of them. Of course, it's a blessing to be able to do that.

But what about the people who just cannot manage the saree no matter how hard they try. What about them fulfilling their Bollywood look? Well well well, pair it with trousers or pants!

Just reading "trousers" must have given you so much relief. Think of actually pairing it up with the coolest-looking bandhani sarees. The possibility of you dancing and enjoying every bit is immense and the possibility of you being conscious of whether or not falling is zero!

This recent trend of pairing bandhani sarees with trousers had been used and admired by tons of actresses and you must steal the show with this ultimate look.

Do you have your dream bandhani saree? 
We have already told you about so many trendy ways to style and put on a show with your bandhani sarees. But isn't finding the perfect patterned bandhani saree the most hectic thing to tick off??
We at kapaaskatha are destined to serve you with the best, therefore you can trust us with the traditional clothing. Be it hand-loomed silk, or bandhani sarees, Kapaaskatha has it all.
 
Written by-
Kiran Joshi