How to Wear the Perfect Lehenga for Every Occasion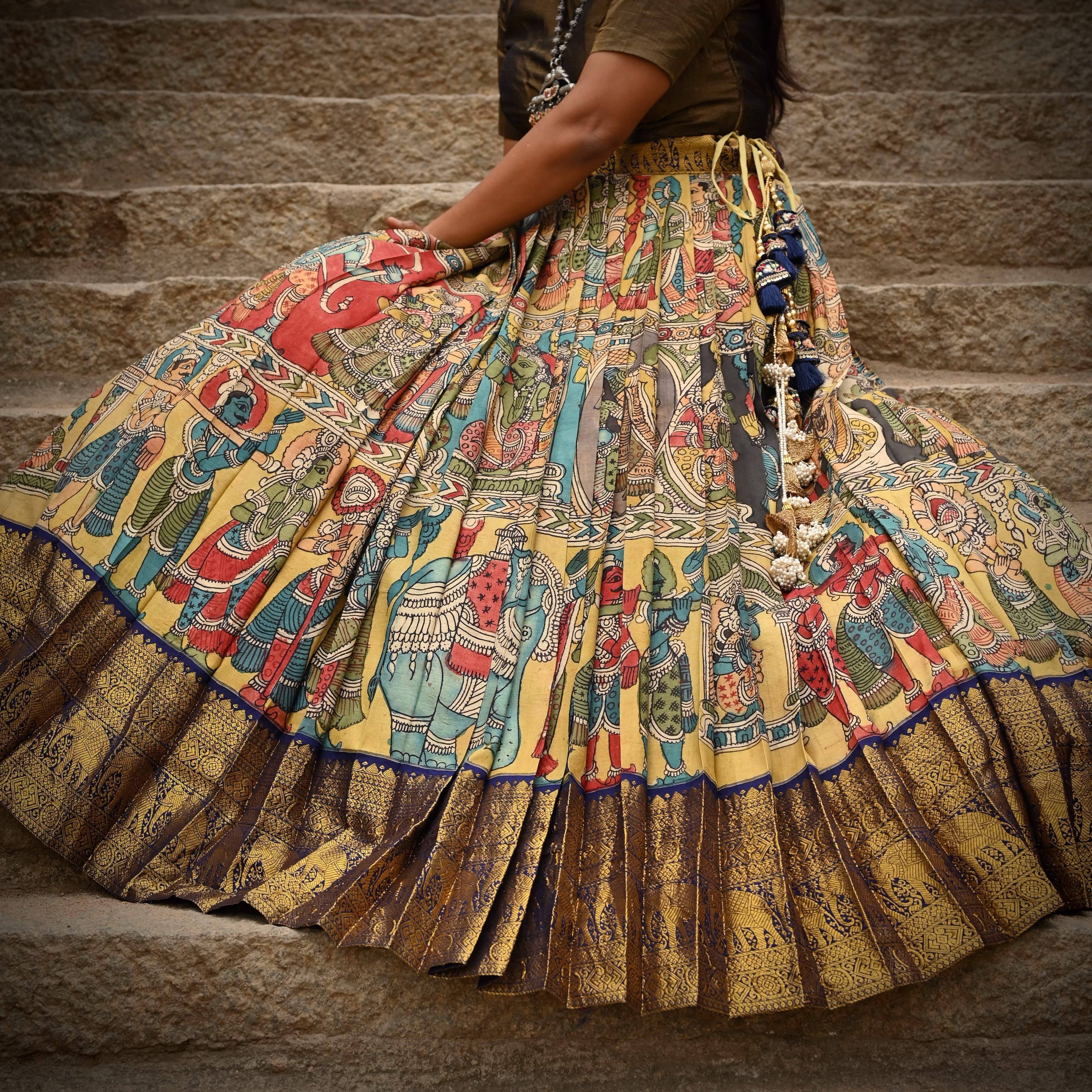 Festivals, family events, and weddings are a desperate call for wedding shenanigans and all the vibrant dreamy traditional outfits. Well, these occasions are also the only time you crave those absolutely graceful lehengas, because who doesn't want to feel like a princess in all that flowy lehenga? Well well well, even if you're a keen appreciator of traditional clothing, a design which has been very dominant in the Indian culture, you still want to mix it all up with some modernity. At Kapaaskatha, we believe in taking the best from each generation and passing it on to the next or the upcoming for them to cherish it even more.
This way, there's a win-win for all of us, those to want to keep the traditionality and authenticity alive and those who want to do the same, but while keeping it all to not such a great extent.
There are thousands of options waiting to be tried by you, be it the mirror worked lehenga, the spring collection including all the pastels, or the classic banarasi lehenga. But it's not just the type of lehenga but the way you dress it up, mix and match it up with various other elements that make the whole difference.
So let's dive deep into the multiple styles you can wear a perfect lehenga on every occasion.
Mix and match with various blouses: One of the most underrated yet perfect ways to stand out and reuse your costly lehengas, without even making it sound like one is pairing it up with multiple blouses. Well, you can change the whole vibe, and elegance of your look by changing the blouse. Just play with the colours of the minute details of the lehenga, pick the choice of design you want to have on that particular function and you're good to slay.
Each blouse with a different design speaks something for itself and for the person carrying it. The halter neck goes back to basics yet with a sense of modernity, the classic round neck is always a saviour, and the backless one is always on the top to give multiple vibes. So here you've tons of ways to always keep the heat on.


Flaunt it with a shirt:  As they say, women nowadays love a pantsuit, but these same corporate ambitious women can pull off the classic lehenga look as well but in their whole individual style. If you find it irritating to have the heavily embroidered blouse, pairing it up with a classic coloured shirt, is always a safe option. Well, white shirt goes with almost every bold, pastel, even multicoloured lehenga or skirt.


With a jacket: Ironically, what if we just convince you to drop the idea of draping a dupatta altogether? Well, everybody has a different choice and vibe and we must appreciate it. If you find it too tacky and responsible to manage and take off your dupatta, you can have a jacket over your lehenga choli.
Yes, either a short or a long jacket goes just fine on any occasion. Off-white, pastels colour jackets are safe to go with most lehengas. Therefore you must have a good pair of them.

Transform your lehnga: If you're done with wearing your lehnga, because apparently everybody has seen it and wants to do something with it so that nobody recognises your old lehenga, you still can wear it. Then, there needs to be guilty about it, it happens to all of us. Nobody wants to spend a few thousand and let it go for just one outfit. Therefore it indeed becomes a necessity to reuse it bit by bit, element by element, till you've had all of it.

You can thus transform your lehenga into an Anarkali. Yes, don't pair it up with the blouse you already were wearing, instead, go with a different blouse, have a belt in the middle or let it go however you like it. You will now have a full-flared Anarkali, just with your old lehenga.

And with these few tips, how you can definitely wear the perfect lehenga on any occasion. 
Kapaaskatha, a community to uplift each and all of us 

Being a clothing line and having sublines of things that women are supposed to adore. Or the things that are associated with femininity, we try to be as versatile and available for all of you as possible. At Kapaaskatha, we have collections that truly represent every woman. Be it the one who has always loved shringar or the one who is distant from it, we try to serve each one of us. Because truly everyone deserves to feel and embrace their femininity.

Do check out our latest collection of jewellery and other accessories which might fit perfectly to your lehenga.

Written by-
Kiran Joshi