The traditional yet Stylish Sarees for Indian women - Kanchi Pattu Kalamkari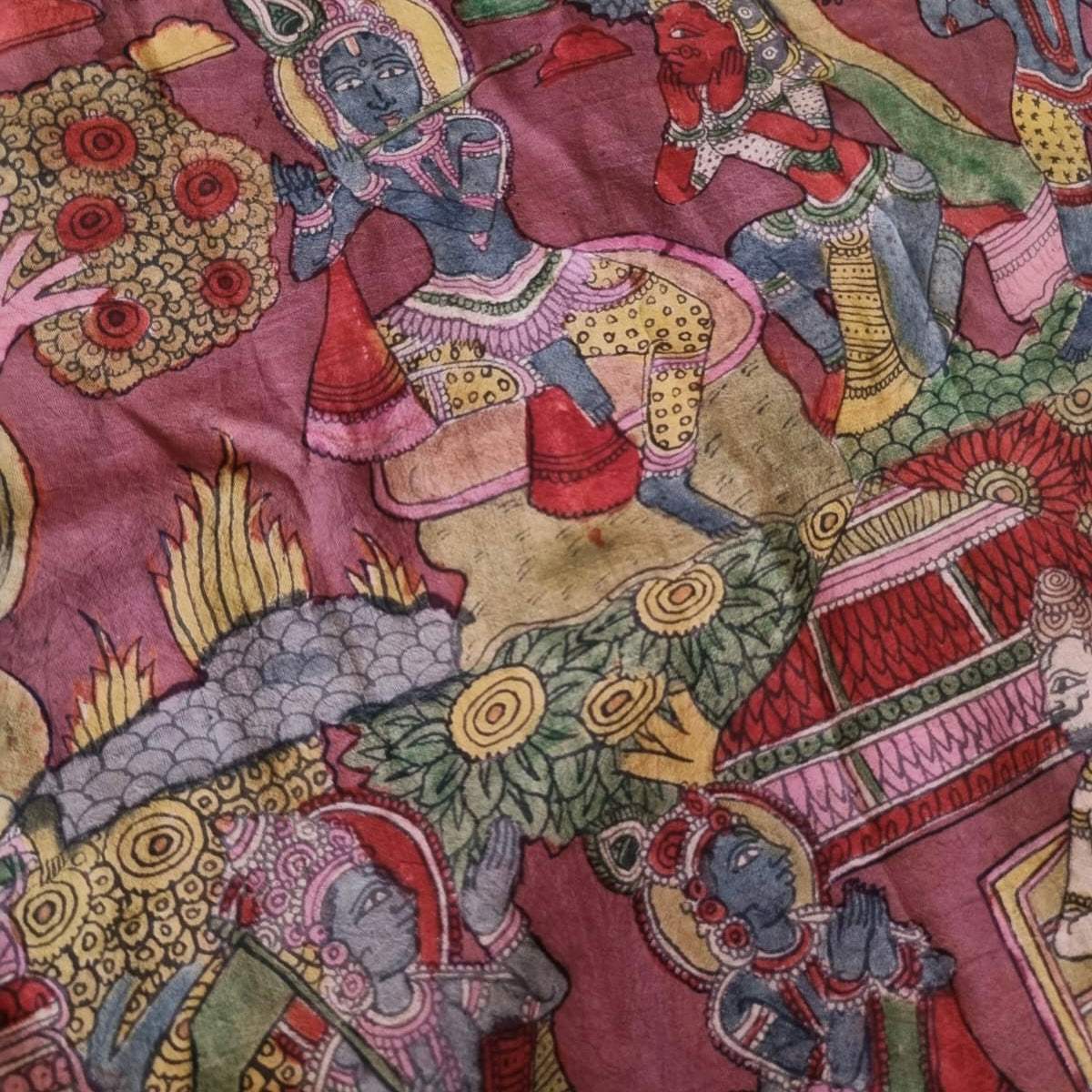 India is all about diversity. The richness in diversity is also one of a kind. One cannot get enough of the astonishment of the fusion the diversity of India can bring. Like - some states that have got specific kinds of food, some states are famous for their scenic beauty. And what about the beautiful traditional clothing style each place holds. Our hearts can never be fulfilled by the classy, elegant clothing of each place. One such beautiful result of diversity is through the wonderful piece of clothing that we have adopted is Kanchi kalamkari from our very own, full of culture and traditions- South India. Kanchi Kalamkari is one of the trendiest pieces one could own when it comes to saree or traditional styling. 
Fusions have really upgraded the definition of fashion. Be it, Indo Western or mixing up two very different traditional clothing. It's all a result of fusion. One such, the ultimate result of fusion is-Kanchi Kalamkari. Well, Kanchi kalamkari is a gift from Tamil Nadu's kanjeevaram and Andhra's Kalamkari, both being one of a kind and having an extremely rich history of handcrafts. The dedication it requires to create one kanjeevaram and kalamkari is nothing hidden from any saree lover or even someone who barely knows anything about sarees. That's how magnificent the culture had always been. Now, if both of these pieces require such heavy handcrafted hard work, think about the pinch of love that contributed to their fusion of them. Both these pieces contribute something and result in such unique pieces like Kanchi kalamkari. 
Well, kalamkari is majorly popular for its bold motifs which signify many hidden stories and represent the divine, epic characters from Mahabharat and Ramayan. The unique prints of flowers, paisley, and peacock make the saree more beautiful and enhance the beauty of the one who carries it. Staring a Kanchi kalamkari alone, one can get all the royal vibes thinking about the one who would actually carry it and would be able to feel like a queen, or someone prestigious. 
Even after being so rich-looking and mouth grasping, it is so easy to carry a Kanchi kalamkari. One can easily carry it during any season, especially during summer when the unbearable heat doesn't let you have anything. Kapaaskatha's Kanchi kalamkari is breathable, gives you so many options to style and flaunt it, and is definitely in trend. So, if you are looking to have a style statement this summer, go for Kanchi kalamkari and be the showstopper. 
Making of a kanchi kalamkari:
Kanchi Kalamkari originated from two completely different places and holds significance for both of them. It represents the culture of two very different yet interconnected places, i.e Tamil Nadu and Andhra Pradesh. Kanchi kalamkari is so unique and appreciated because of the process behind its making. The artisans have practised for years to hand draw and paint these sarees for days to create such amazing detailed bold motifs. There are very few authentic artisans left, and the ones are, don't get appreciated enough for what they do. Though, to ease up the process, sometimes, the sarees can be screened first and then hand-painted by artisans. There are Such experienced people of their art, who are contributing to making that perfect saree for you, to make you look flawless each time you wear it. While respecting the efforts put behind such elegant 6 yards of beauty, one must wear it and flaunt it with pride.
You must have already thought of styling the pen kalamkari in so many ways. Let's have a look at some styling suggestions:
Drape it like a Dupatta on a lehenga: Kanchi kalamkari is very famous for its iconic broad "palla" and "borders". Styling it like a lehenga can enhance its beauty in so many ways. Getting the exact heavy bordered designed pen kalamkari sarees online is quite a big task but at Kapaaskatha, we sure check the quality our customers are investing in and therefore make each penny count. The extreme counts of layers in the lehenga made by pen kalamkari, complementing the broad palla can make you feel like none less than the main character, as you should.




Mix and match with contrasting colour: Though Kanchi kalamkari usually comes in a colour that compliments each other, being completely contrasting to each other but if you want to style an overall same coloured kalamkari, then go for a plain contrast colour blouse, and it will definitely enhance your saree game.


Have it in all styles: Kanchi kalamkaris can make you look and give the most acoustic vintage vibes as well as the stunner or showstopper one as well. Pen kalamkari silk sarees are also very trendy and it only contributes to enhancing your body type while elegantly sitting on your body. Having so many options in styling, It all depends on your choice and the occasion, and how you want to drape it. Kalamkari can be worn by the bride, and even to a housewarming party. That's how versatile kanchi kalamakri is. 
You might not find such precisely designed Kanchi kalamkari everywhere. But you can grab it in various styles easily at Kapaaskatha. Kapaaskatha has designed all the traditional clothing from the native artisans themselves, with years of experience- and that's what makes it more unique. Kapaaskatha is taking one step a day to contribute to preserving the traditions of Indian heritage. Having designed all the sarees only from the native artisans is one such step. Kapaaskatha is a brand that loves, respects and values the craftsmanship and the years put behind to master that craftsmanship of any artist. Kapaasktha wants the customers to be much alike, the one who respects the originality and the hard work put behind that one saree. 
Still, not convinced enough to rock the traditional yet stylish Kanchi kalamkari sarees the ultimate way? We are sure, these iconic looks can definitely make your heart melt and assure you while making the beautiful purchase of pen kalamkari. 
These were a few of the astonishing looks you can create with Kanchi kalamkari. Be a style statement and flaunt it as you own it.

Written by-
Kiran Joshi