Silver earrings: Accessories with a modern and traditional vibe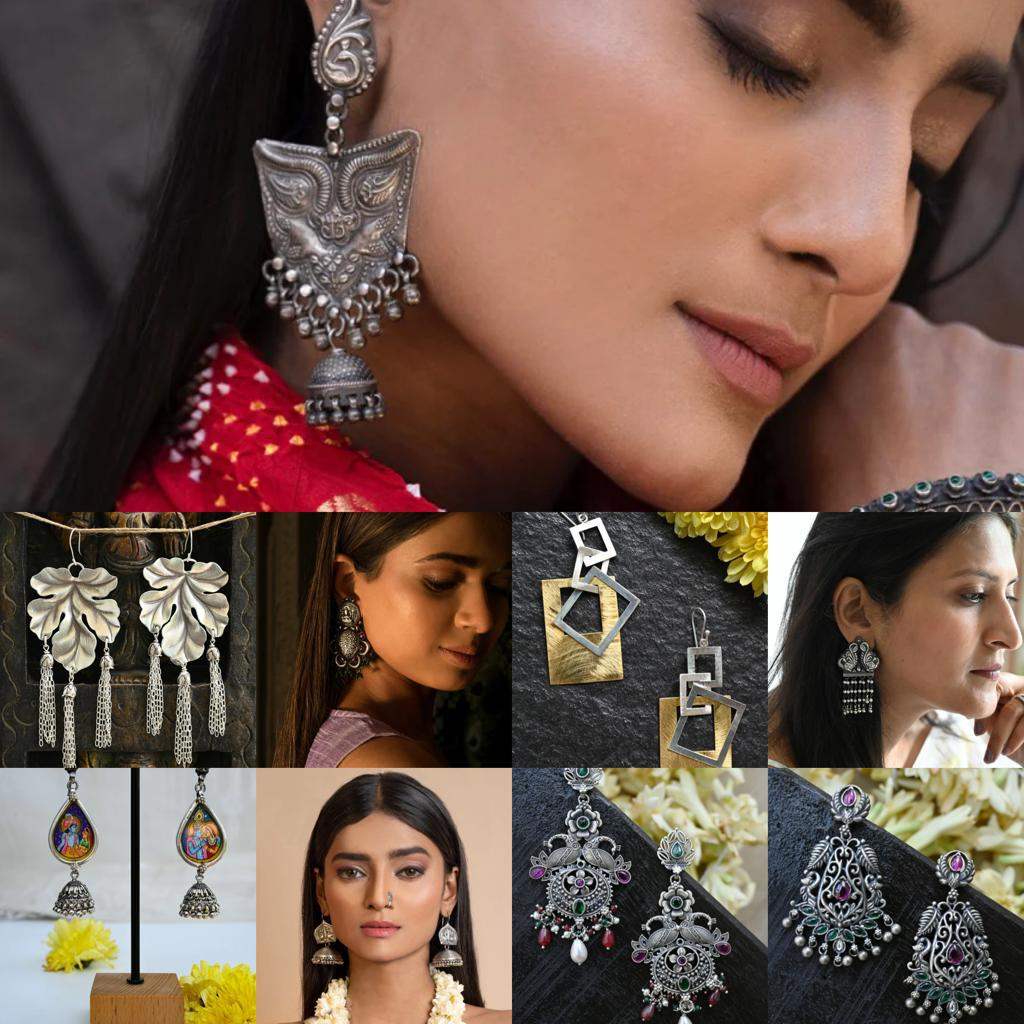 If there's only one piece of jewellery that one could wear time and again, that too on a regular basis then it would undoubtedly be silver earrings. We see silver earrings being worn and adored by most of us. It is like a classic go-to piece of jewellery because it's neither "too much", nor "too little". It is a perfect definition of being minimal and at the same time looking as if you've put those extra efforts into your outfit. But has it always been like this? Going back, in history we saw most of the kings and queens wearing those large heavy gold as well as silver jewellery. So how did this perfect piece of silver jewellery and earrings most importantly come into existence that we cannot get fond of today?
Let's go back to understand the origin of silver jewellery:
 The origin of these classic silver pieces of jewellery dates back centuries when these precious metal was not mass-produced unlike today and was available only to the higher class people with ton loads of wealth. It's kind of interesting and surprising to know such rich details about our ever-loved silver pieces of jewellery.
The metal was basically discovered around 50000bc and due to its high-quality existence it was henceforth put or experiments and work. The major role and work of the use of silver as a metal were to be a helping substance in making other things, like it was used in making eating and drinking vessels, as well as ancient sculpture along with being the jewellery that was only accessible, rather especially made for the ruling class society.

Industrialisation though changed the narrative, earlier being only accessible to the ancient Egypt kings and queens, the mass production of silver jewellery was now possible during the Victorian age after hundreds of years. There was none a piece of silver jewellery that wasn't rich looking and didn't contain expensive and precious pearls and gemstones.  Slowly and steadily it became the definition of a gift, or of showing your utmost love towards your loved one with a gift of silver jewellery and also.

After a long period of time, one of the major components of silver jewellery was established as sterling silver, which is alloyed with copper and consists of around 92.5% pure silver which is used and continued by many even today. However, there is 99% of the same components found in fine pure silver which is quite expensive and too delicate to handle.
The position of silver jewellery in the 21st century:
The 21st century embarked as the century where silver jewellery is the most accessible and most widely produced jewellery. Both the consumers as well as the producers are definitely overusing it.
Though most of the silver pieces of jewellery you see and find today lack the authenticity of those vintage vibes, because of all the purity, enriched history and charm of hard work it had. Silver jewellery definitely peaked its quality at that time. It's rare to find those silver pieces of jewellery that speak quality, authenticity, purity and everything else in between. But not impossible.
At Katha of Jewels, we make sure that you get the most refined silver pieces of jewellery of all time, for you to not only hold on to it, and embrace it but also to pass it on to your future generation while always having a story, a katha to tell.
Utmost versatility of silver earrings:
One of the major or the most versatile parts of silver jewellery is silver earrings, they are one of a kind and can be used accordingly, everybody loves to wear and flaunt silver earrings as they are so versatile that they can be mixed and matched with both traditional and modern outfits.

If you find or think that your outfit somehow lacks the charm today or any day, a perfect pair of silver earrings is your go-to rescue as it just won't uplift your whole outfit but will also let you get tons load of compliments. Silver earrings are considered the epitome of love, the idea of gifting, and is always considered to maintain the fine balance between the modernity and traditionality of any outfit. However, it is self-explanatory, quite an interesting aspect of how some pair of silver earrings which has the same metal as their origin can give two very different vibes.

So let's dive deep into the types of silver earrings and the ways to style them according to your vibe of the day:
Silver stud earrings: The classic silver stud earrings literally scream modesty, sober and minimal look. You can never go wrong with a charming pair of stud earrings accessorised with a black dress.
Silver jhumkas: The bell-shaped earrings, jhumkas literally is the first love of everyone out there. Whenever we think about any pair of earrings, it's jhumkas that come automatically into our minds. The idea of the elegant movement of those jhumkas as we walk, talk or even turn our heads slightly, excites us all in different ways and therefore is definitely one of the main silver earrings that one must have.
They can always give you the classic ethnic look, no doubt, with a kalamkari painted saree, but it also is very versatile when it comes to enhancing the indo-western look. A tiny yet charming pair of silver jhumkas paired with a turtle neck top or a tank top, with high-waisted trousers or skirt, just a perfect combination of modern with traditional vibes.

Many other types of silver earrings are responsible for the upliftment and perfect mixing of traditional and modern like the big silver hoops with a tint of minute design, or the bohemian kind of earrings.
Katha of Jewels and its gems:
Though finding the truly beautiful silver earrings which would only enhance and compliment you throughout is hard, with the credibility that Katha of Jewels possesses it's next to impossible not to be satisfied and get exactly or even a little more of your expectation.
Written by-
Kiran Joshi