Stitching Memories: the art and Significance of kids quilt: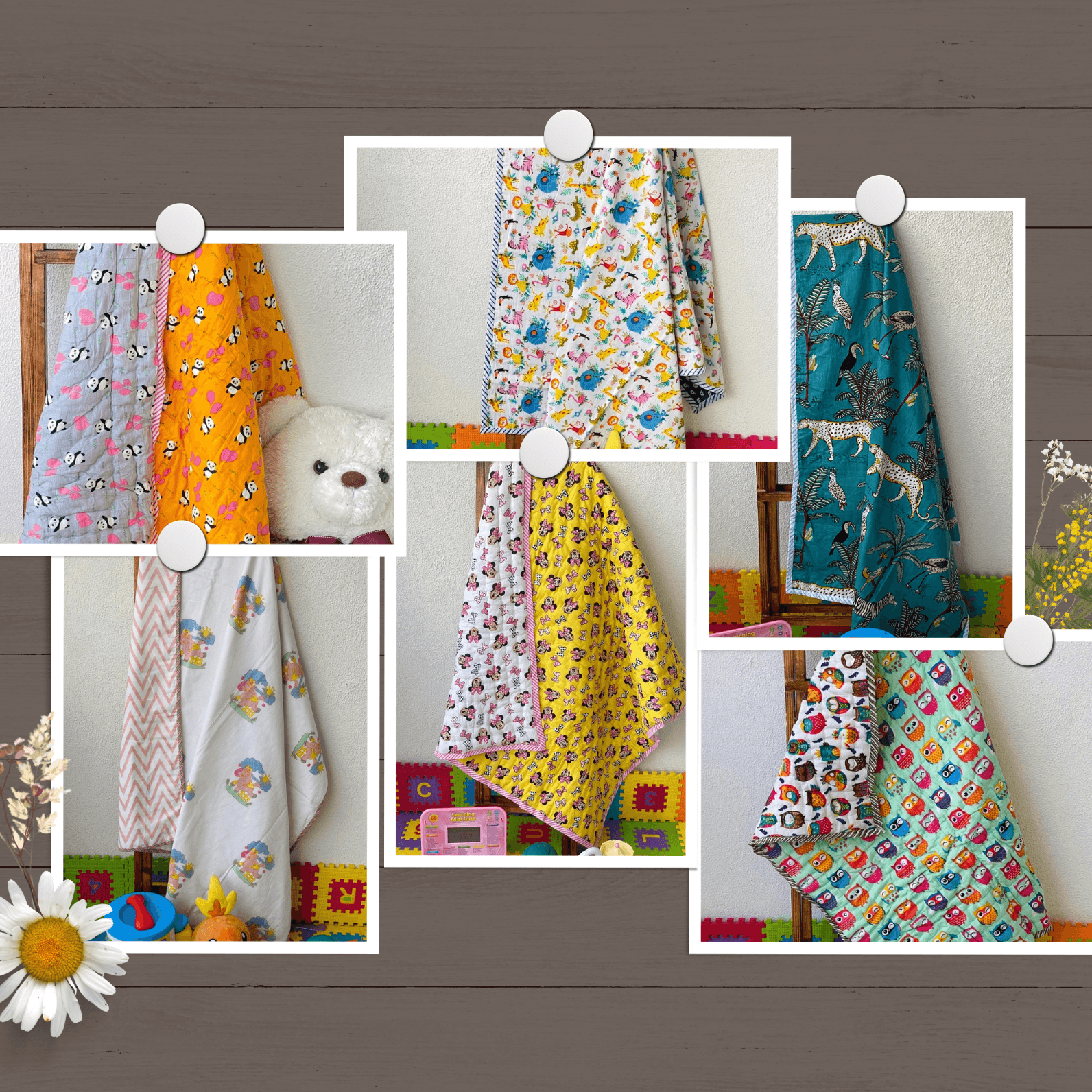 They say we reflect what we observe. Basically, we are what we consume. The growing age of children is something which they inculcate the most, they will copy all your good and bad habits, might be faster with the latter ones but you know how it goes. When you show your humble self, a whole lot of you respect and adore the art and artist, your babies do the same, little by little. Kids' upbringing is definitely no cup of tea for most parents, you need to care about so many things. From what they will eat in their next meal as those tiny portions, swiping tears when they take a shower, to choosing everything that provides the maximum comfort to the baby, be it the fabric of clothes or the quilts they sleep in. Everything is demanding when it comes to your little infants.

However, Kapaas Katha's kids and home collection can take some burden off your shoulders, by providing the utmost comfort to your baby with soft quilted comforters. At Kapaas Katha we provide significant varieties to make your kid's collection a little more comforting throughout. There are many categories under which you can shop for your little ones, like quilts, dohar, towels, cushion covers, and bed sheets. But let's talk about them in accordance with our priorities.

Kids quilts and dohar are something they spend most of their time on. When you have an infant, you specifically keep an eye on your baby and handle everything with care. You definitely want the softest quilt, which is just perfect for your baby's sensitive skin. Because they basically spend their 24 hours in those quilts, while crawling, trying to stand, playing, crying, sleeping, trying to learn the world about them, and getting habitual of it. You understand how precious and crucial the process is, and so is surrounding them with positive vibes, which reflects something, which always inculcates good habits, and embraces the nature of thankfulness, and empathy from the very beginning, and hence you chose Kapaas Katha's quilts handcrafted by local artisans, with their sheer creativity and love.

We have three quilts to be part of your baby's growth: 
Baby quilts: These are designed specifically for your infants, new to the world. We have kept a keen eye on the design from which your baby can observe many things. We have prints including different animals, like tiger, giraffe, owl, panda, elephant, and Micky mini. Also in the hope that nowadays babies would like Harry Potter as much as our generation did, we have Harry potter printed quilts as well.

All the colours of the quilts are in their earthy tones and not in those vibrant shades that might not be very pleasing to your kid's sensitive eyes. The baby quilt is of 40*40 dimension, the perfect size for your infants.

Kid quilts: As promised we will be there with you celebrating your kid's growth, and so will be our quilts. The kid's quilt is for a little grown baby and is around 60*40 in dimension.

The collection does have many colourful options with many children-friendly hand block-printed characters, but we have also included many prints on the sheer white fabric, simply because it symbolises the peace and calmness that a child must develop towards every other person.

Big kids quilt: It's not like a kid needs love, and comfort only when they are a baby or are done growing up, they need it the most while facing puberty, while just being close to it. Be it through you and through the place they spend their time in.

Big kid's quilts are 90*60 inches in dimension and are so soft and comforting that they will hug your child like you, when you couldn't be around, give the most peaceful sleep, and you will have more night stays with their friends than ever, just because of how comforting they are.

We know the importance of quilts and how significant they are in the life of your kids while growing up, and how the friends of your child will have the most memories with it. When they will think about the details and what went behind making that comforting quilt, they will only be thankful to the craft of the artisans to make a mere quilt so important and of great significance in their life.

However, Kapaas Katha also provides dohar, which is just like a carry-friendly alternative to quilts. Dohars are helpful when you want to carry around your infants and hold them while doing so. Dohar is basically a layered flannel or a sheet of mulmul cloth in between two layers of printed cloth. It is much lighter and smaller to carry while travelling or to take your babies in.

We have two options in dohar:

Baby dohar, and kids dohar; of 60*40 and 90*60 inches and can be folded into a compact form for travelling. You can opt for different prints in quilts and dohar to have a variety. Get ready to be asked tons of questions about the quilts and Dohars because it definitely does look like the most beautiful comforting thing ever. You might want to do it soon, cause we are selling out on our best prints.


At Kapaas Katha's Home and Kid collection, we believe in always passing on and living the purpose behind these collections through you. We all embrace our childhood and how sometimes we might remember what we were wearing in that particular instance or our surroundings, and then it narrates a different story altogether. It's the same with our quilts and dohar, and how your kid will embrace the positivity and the dedication of the artisans which will eventually develop respect towards them as well.

Written by-
Kiran Joshi